Every month we have a Longest Snapper $50

Hunting & Fishing Warkworth

voucher to award.
Get your 'weigh' sheet to us before the end of the following month to be in. The length criteria gives you the option to release larger fish. Sheets must be accompanied by a photograph of the fish on any measuring device that clearly shows on the tip of the mouth to the V in the tail. Using a fishing.net or IGFA measuring board is ideal.
You have until the end of the month following capture and official weighing measuring* to present your weighsheet for this award, which is a $50 Hunting & Fishing voucher.
*Results posted here are provisional until just after the end of the following month, except for the June one (end of season, so you've gotta be quick). Be at the Prize-giving to collect.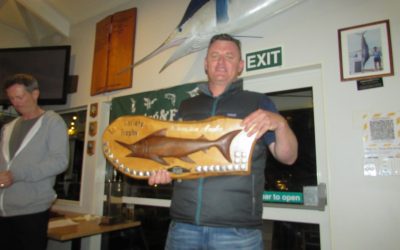 Our 2020 AGM was held on Saturday 1st August. Good attendance thank you and we got underway on time.Reports from our Records Officer Cam, NZSFC rep Terry, and President Dave were...
Download our latest club newsletter